MANILA, Philippines — It will be a special Indepence Day for Filipino sneakerheads this Saturday as the adidas Harden Vol. 5 "Manila Heritage" colorway will be released that same day.
The fifth iteration of Brooklyn Nets star James Hardens' signature shoe, which was first launched earlier this year, gets the Filipino hoops fan treatment through adidas' partnership with Filipino toy designer and visual artist Juanito "Quiccs" Maiquez. Debuted by Harden in Game Five against the Boston Celtics in the first round of NBA playoffs, the "Manila Heritage" colorway pays tribute to hoops-crazy Philippines with distinct design elements.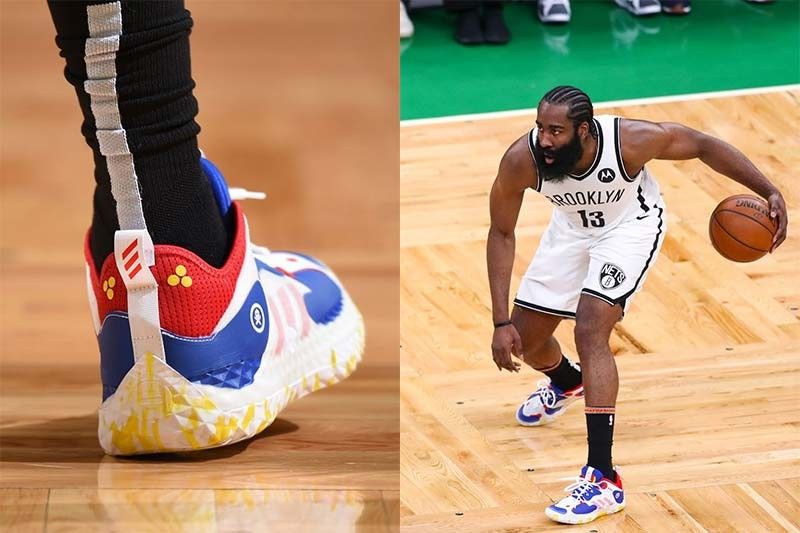 Most notably seen in the shoe at first glance is the color pallete of Philippine flag colors yellow, red and blue.Still drawing inspiration from the flag, three yellow dots can also be seen on the shoe's heel tab — a call out to the three stars representing the country's island groups.
On the shoe's upper is the Philippine country code +63 — a design element that Quiccs followers will be familiar with.
The Filipino designer also added his own unique flavor to the sneaker.
Quiccs immortalized his status as the first Filipino to design adidas footwear by adding his "QUICCS" and crossbones logo on the shoe's heel counter.
"TEQ63", Quiccs' signature character, and a "Quiccs-ified" James Harden character can also be found on the sole to wrap up the designer's personal print on the signature shoe.
Tying Harden to the Philippines in the shoe is the date "06.26.19," which marked the former MVP's last visit to Manila, where he opened the idea of having a shoe dedicated to his fans here.
Quiccs raved about the opportunity of designing Harden's footwear.
"I've always been a big fan of basketball and adidas, so I'm beyond honored that adidas has given me this opportunity with 'Manila Heritage' to use my creativity in paying tribute to the Philippines and James Harden," he said.
The Harden Vol. 5 "Manila Heritage", which will set you back Php 7,000, will be made available to fans via adidas stores, adidas.com.ph, and through the adidas app starting June 12.
Apart from the footwear, two new Quiccs-designed tees will also be dropped, one of which features a "Quiccs-ified" animated James Harden.